Helping sales departments be even more productive, sell even more, and enjoy even more success
In an increasingly digitalised world, demands on sales teams have never been higher. Add a global pandemic that took us all by surprise, and the pressure to close has increased even further. That's why this blog focuses on helping sales departments be even more productive, sell even more, and enjoy even more success.
When Upsales launched in 2003 it was a CRM-software with a heavy focus on simplifying the sales process. We retain this focus, wanting to revolutionise work for companies and provide sales reps with tools to succeed. Naturally, we've learned plenty along the way from working with fast-growing companies over the past 17 years. In particular, we've seen the companies that succeed take a very disciplined approach to prospecting, and motivate their sales teams to implement high activity standards.
Standards and discipline in prospecting
That's why at Upsales, our sales team always works with a high activity level. This is how to generate more sales, and streamline your process to sell more, faster. We implemented a "Standard of performance" for how many calls, meetings, and closed deals each sales rep should accomplish per week. With this level of discipline, you discover small tasks and tricks that speed up your processes even further.
You can check out some key findings below. They all happened because Upsales is optimised to help you scale productivity and boost sales excellence:
Automate all time-consuming steps in the sales processes
Speed up prospecting and cold calling routines
Ensure outreach calling is as fast and efficient as possible
Make prioritising tasks a no-brainer
Here are the new sales efficiency features added so far
Everything you see below is so you can continue to improve your sales reps' efficiencies and increase their activity levels.
1. High priority - Making it easier to prioritise activities
Make sure you don't miss any critical activities by flagging them as a high priority. Flag activities in the activities list, in the activity window, when assigning leads, and from automated activities (form submits, journeys, triggers). Use the new Priority quick-filter to only show high priority activities in the Activities List.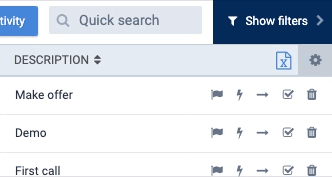 High priority activities
2. Click-to-call - Save time by calling out faster
Now here's a real timesaver. Click on a phone number in Upsales Web, and it automatically connects to your Upsales Mobile app, allowing you to place a phone call without manually entering any digits. Activate Click-to-Call under My Profile, in Settings, and log in with the same credentials in the Upsales mobile app (available for iOS & Android), and you're good to go.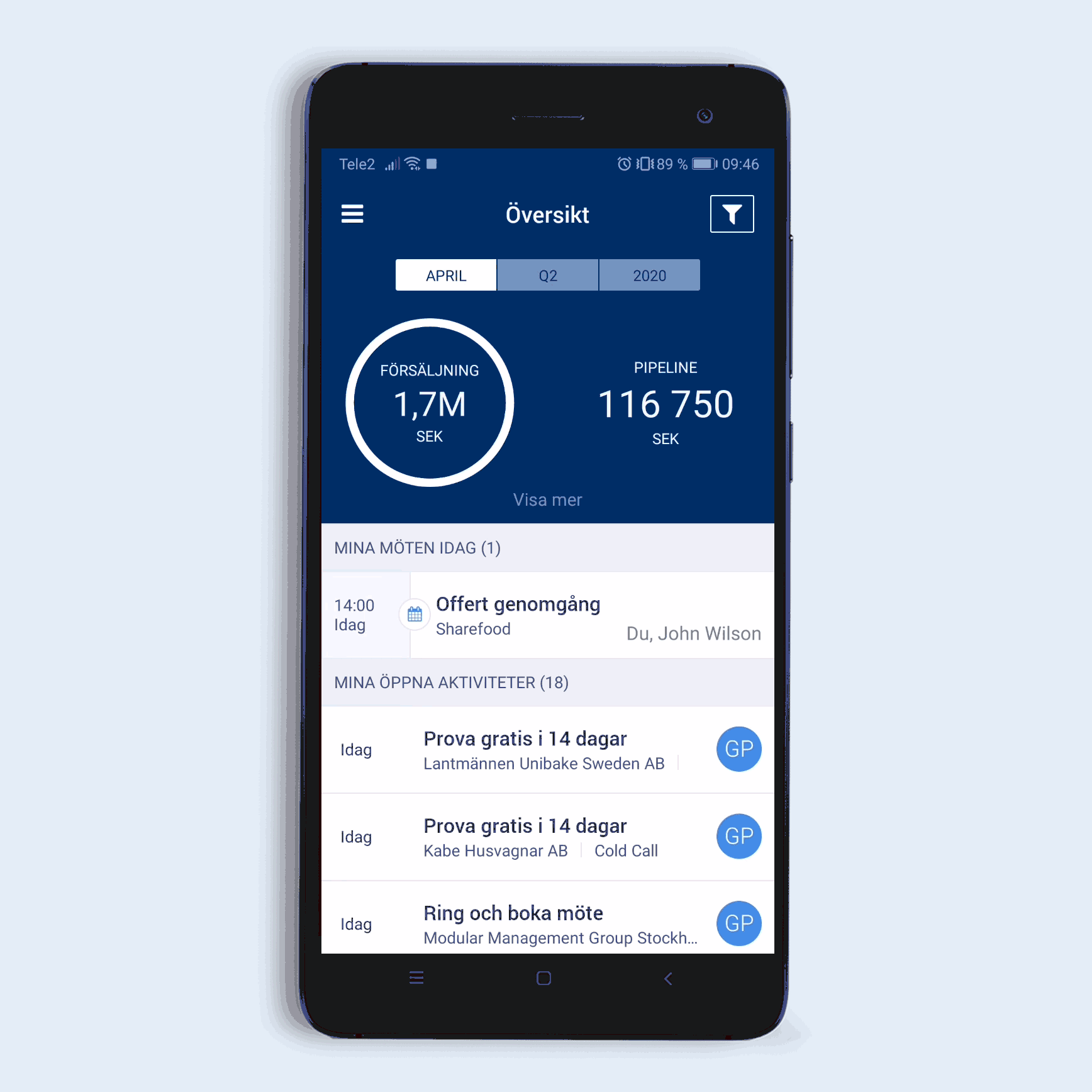 Click-to-call in Upsales
3. Activity Outcome - Work with high efficiency and activity level
We realised our sales reps and our customers used our Activity list feature slightly differently. Basically, everyone had their own way of working. That's why we wanted to provide our users with a simple best practice that would cover up for all different types of outcomes for an activity. And yes, we call it Activity outcomes – a way to make working with activities as streamlined as possible.
Activity outcomes help you structure your workday. Freeing you to make the most of your time and stay organised. From just one place you can track your meetings, demos, email, and phone follow-ups, prospecting calls, and other activities. The feature is a powerful way to log all your actions, decrease the time you spend on each activity, and streamline your prospecting workflow. Let's have a look at how.
With the Activity outcome, your activity feature will display action buttons. These actions are then saved in the activity log to give you a good overview of past actions and outcomes.

Many companies measure sales rep performance on calls made and appointments booked. This was previously only possible in Upsales by closing each activity and marking it 'done'. With outcomes, your calls and actions are automatically logged and can be viewed in reporting.
So what happens if you did not reach your contact "Aiden" ... perhaps their phone was busy or they simply didn't answer? Either way, you didn't get to pitch and you need to call back later. Clicking this button lets you postpone the date of the activity to a future date. You also have the ability to send them an email directly from the activity. Of course, sometimes it's not worth the effort to continue calling day after day if the recipient isn't ready to buy. So there is an option for Stop trying > Close activity or Disqualify.
Let's hope for the best, and say that you reached Aiden. Well done, a step in the right direction! From here, there are many situations that can appear; we've tried supplying actions for most of them:
Aiden was busy – speed actions to postpone the date. The best thing is probably to postpone it for tomorrow and to try another time of the day.
Aiden is not interested now – Ask yourself this: Could the lead buy what I'm selling?

If yes: Postpone the date and get on with the next one.
If no: Perhaps it's a competitor, a partner, or they will simply never become a customer for other reasons, click "Stop trying".

Aiden suggests someone else at the company to talk to. Clicking this button lets you add another contact from the same company to the activity or create a new one.
Aiden wants you to email more information – choose from your templates or compose a new one. The email of the contact added in the activity will automatically be added as the recipient.
Aiden is interested – Yay! This is what we're all aiming for. It enables you to choose from the following alternatives: booking an appointment, creating an opportunity, or even an order. This option brings the company, contact, and notes along to the task you choose to create.
We also added a view to easily know which contact person to make contact with at your target company. This helps eliminate time spent on contacting wrong contacts or browsing around to find the details.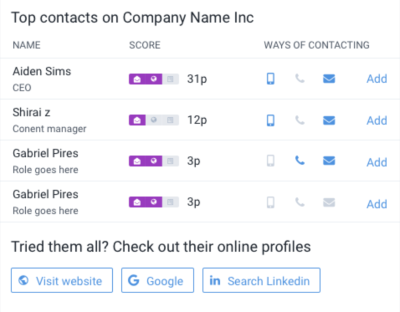 Clicking a phone number or the email icon automatically adds that contact to the activity.
This feature update Activity Outcome might not look like much, but we really hope it will make a big difference for all sales reps. It sure has helped our sales reps to increase their activity level and better structure their lists.
Activity Outcome will soon be available for all Upsales users.
Eager to know what else we're working on to benefit you?
There are definitely a lot of new things coming.
The product team is working hard – as always – to stay ahead and update the product to revolutionise your work and help your company grow. So please stay tuned!
You can read our release notes here.