Award-winning durhamlane celebrates a record-breaking financial year of 31% in revenue growth. They recently passed 7 million Euros for the first time, and the team keeps growing. Co-founder Richard Lane and his team just developed 11 new roles to support the company's scaleup – and secure multiple 6-figure contracts. Richard's 'Selling at a Higher Level' 5-step system is one of the secrets behind the success, which you'll learn all about in this article.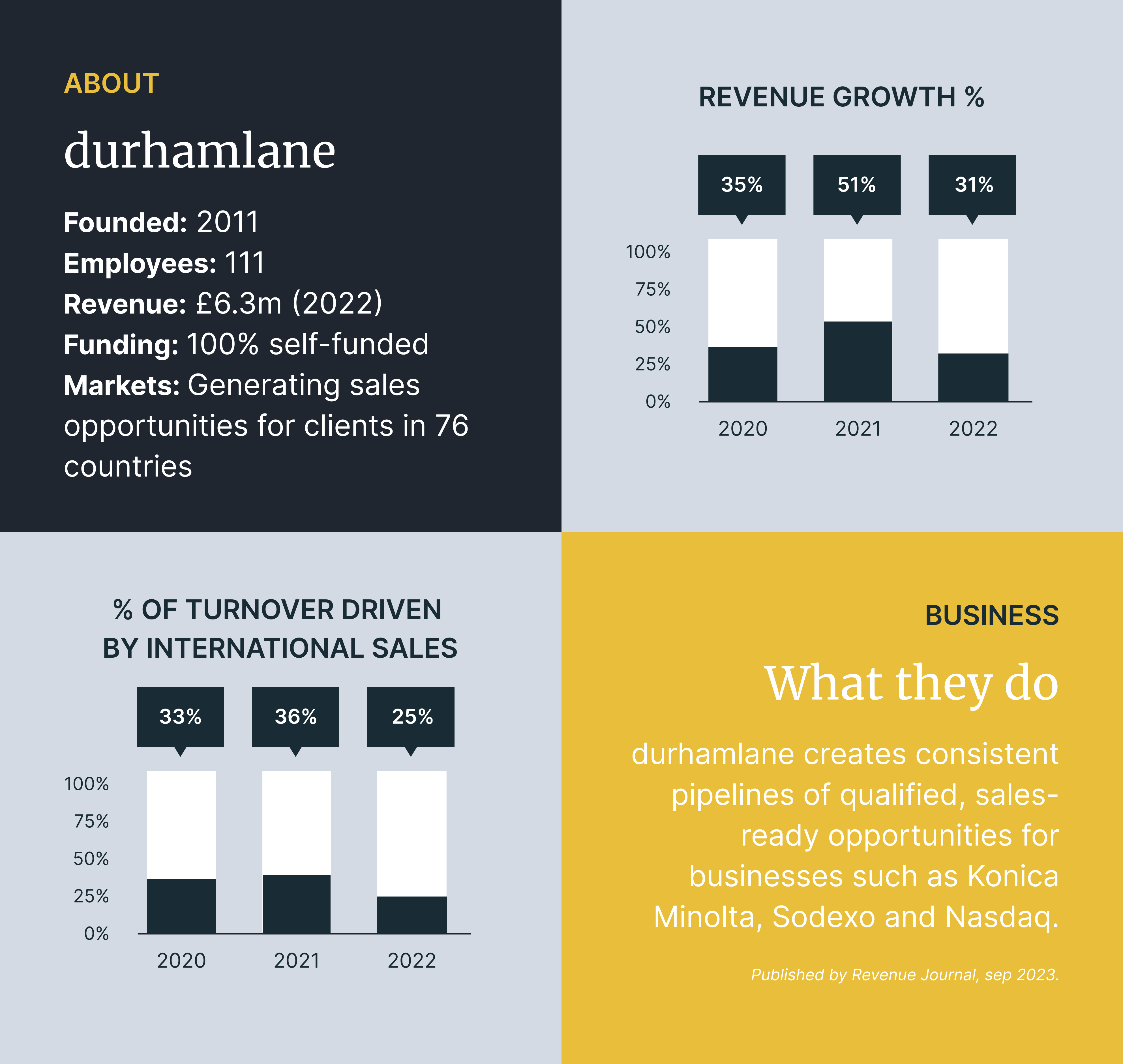 Step 1: Find & Create – how to identify and nurture new leads
Many companies don't do this very well.
That's because no one really wants to do the prospecting.
They get forced to do it because their pipeline isn't strong enough. As soon as they start chasing down leads, guess what happens?
That's right – they start getting busy again... and then they stop prospecting.
That's because they're now selling again, which is the bit they like. As a result, they get stuck in a cycle.
Finding clients is durhamlane's bread and butter. We use Find & Create on behalf of our customers, and we also use it to ensure we have a consistent pipeline for our own business, too.
Take the 'cold' out of cold calling
We have a number of tools to help us.
These include methods of accessing C-level executives, as well as techniques for engaging and developing long-term relationships – we focus on taking the 'cold' out of cold calling.
Our engagement hones in on being relevant, concise, topical and action-orientated. We make it our business to understand the "why" and to ask questions. To be "interested to be interesting".
If you believe there's a fit with a potential client, and you know that you can add more value than you're going to ask someone for in contract value, then why would they not be interested? That's part of our 'mindset' piece.
For example, we took on a client whose business we knew we could grow – and since becoming their sales partner, we've generated a qualified sales pipeline with a value of €200M, and €13M in closed-won revenue.
And in the client's own words, "For a company as large as us, to be very satisfied with durhamlane's performance means they've worked hard to get it right."
Prospecting is a skill that will serve you forever. But in so many large organisations, the sales teams have forgotten how to do it.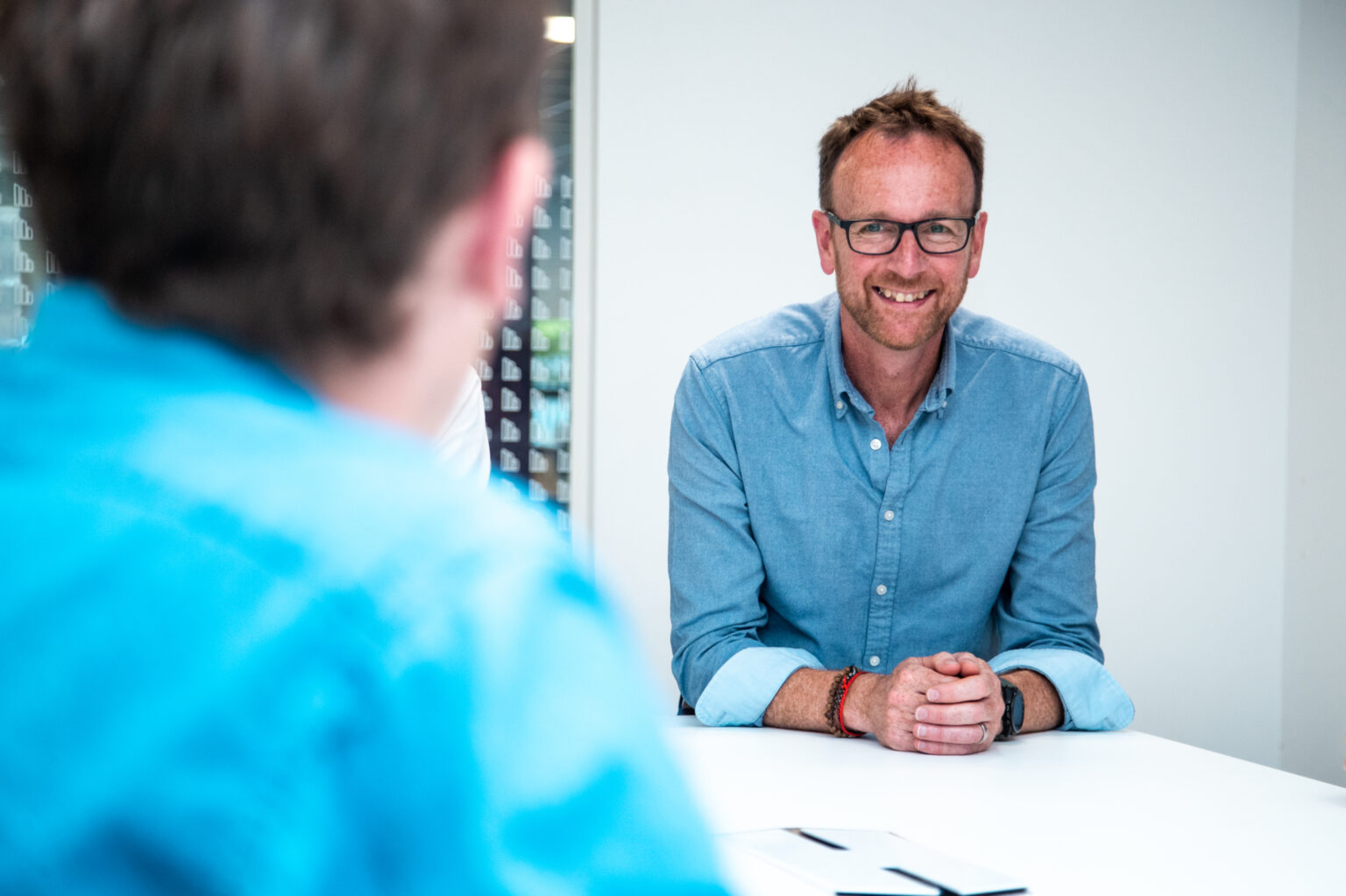 Step 2: Define & Understand – stepping into the client's shoes
The word 'discover' is used a lot. Especially over the past decade.
What we do isn't really any different, but our methodology is based on consultative, question-based selling.
Define & Understand is all about putting your feet in the shoes of the customer.
What's the problem we're solving?
Why should they be interested?
Who else might they be talking to?
We have our own proprietary tool called Magic 35, which is a sales qualification framework that enables you to have a sales conversation with purpose.
It works by identifying key criteria that we know influence the progression of a sale. It's a powerful tool that enables a salesperson to understand exactly where a deal is in the sales cycle – whilst also helping the prospect feel understood.
This phase is like a concertina because the conversation might last for three, six or even 12 months. And it can move in two directions.
We grew average order value by 300% by learning what truly drives the decision-maker
I've got one prospect I've been talking to for a year, and even though we had progressed to Phase 3, we're now back at Define & Understand.
But when you work on that deep understanding of your customer's world, it makes you stand out. It makes you seem different to everyone else out there.
It's an approach we embrace when prospecting for our own business. We've been known to 3X our average order value when we get to the real heart of what drives a decision maker.
A recent global customer had a healthy MQL-to-SQL conversion rate, however deals weren't closing. We've helped them maintain this conversion but focused on people who are in a position to buy. Their win rate has rocketed.
Define & Understand is something that so many salespeople have never been trained in. They're just interested in dialling and speaking without any thought behind it.
Step 3: Propose, Recommend & Present – identify the compelling reason to buy
If you've done Phase 2 correctly, this is the natural progression.
I remember a great line: salespeople propose, consultants recommend.
If I've listened to you correctly, I'll have worked hard to understand:
∙ What defines the need.
∙ What is the compelling reason you might be interested.
∙ Who else is involved in the buying process.
The next step is for me to make you a recommendation as to how I think I can solve the challenge that you have.
But it's not 32 pages of how amazing my business is. It should be about your situation, what you have told me, and what we think we can do.
It will outline the investment you need to make and will also show the return you should get.
We're able to forecast ROI for new clients using our historical datalake. By understanding the industries they're targeting, their average order value, who they're selling to, we can overlay that with data we've collected for other organisations to estimate the kind of results we could achieve for a new client.
Step 4: Close-Out – you have to ask for the deal!
Consultative people are often very good at Phases 2 and 3, but less good at Phase 4.
We see a 67% increase in win rate when we build a solid plan with our prospects that navigates through close and to onboarding. Too many salespeople move on without ever getting to a firm "yes" or a firm "no".
You have to ask for the business and you have to be professionally persistent.
Just because you've got this far, it doesn't exempt you from setting up the deal, negotiating and closing out. We have tools that help, such as our value-based negotiation worksheet, built around win/win selling and helping people buy from you.
Close-Out is an essential phase, because you have to make sure that you're the one being selected rather than someone else.
Many deals lost only existed in your head
If your deals often break down, it's usually because you're trying to close a deal that doesn't exist. So much of sales conversations happen in your own head or with colleagues.
And not necessarily the person that you're hoping to buy from you.
You often have to go back to Phase 2: Define & Understand. Because you've been trying to close out the wrong thing.
Find the outside force that will drive someone to do something differently.
And if that need isn't strong enough, you have to try and guide the customer through the impact of doing something different.
Our win rate increases when we get customers to the HQ
For example, we'd been talking to a potential enterprise client for 12 months and weren't able to get the deal over the line.
Everyone was bought in on the potential financial model – however we are first and foremost a services business. So, it was essential to ensure the potential customer had confidence in our people – our team's ability to perform. Getting everyone round the table to build that confidence and that trust in our people clinched that one for us.
Our win rate increases dramatically when we can get a potential customer to visit our HQ, meet our people and witness our facilities.
Step 5: Serve & Grow – seamless onboarding and finding new ways to serve the client
Make sure you get your new client off to a great start.
So if you're handing over to a customer success representative or an implementation consultant, make sure you've handed over the relevant information.
Make sure all of that knowledge you've built up over 30, 90 or 180 days is transferred across.
Otherwise, it's all wasted. And you have to start again.
In the early days of durhamlane, customer onboarding was a relatively short process, and it was only as our business developed that we noticed the opportunity we were missing by skimping on the onboarding process.
Identifying that, then building out and continually refining a comprehensive process that now takes a month with new customers, we're truly beginning with the end in mind – and setting partnerships up for success.
Importantly, though, you have to remember to go back to Phase 1. It's a key way to create new opportunities.
Go back to Find & Create, because the best way to make more sales is to sell to people you already serve.
/ Richard Lane
COO at durhamlane