The market climate has shifted dramatically over the last few weeks. As inflation and interest rates rise, many companies are finding it harder to raise capital. At the same time, valuations have dropped, and investors are demanding better usage of their money. For many companies, difficult times are around the corner. Not least for those who've used venture capital to hire new people.
To help all of you sweating out there, I want to share a story (and lessons learned) from when we had to cut 40% of our headcount to avoid bankruptcy in 2012. Perhaps, like us, you need to do something to keep the ship afloat right now.
How our focus on scaling led to liquidity problems
"If we don't close a deal in seven days, we won't be able to pay salaries", our CFO said to me.
The truth is that, in our first ten years, it was more rule than the exception that our revolving credit was 99% maxed out. At this point, our revenue was just below 2 million euros. We grew bootstrapped and ran the company with a crazy tight margin.
We'd been focusing a lot on "scaling the organisation.", hiring a bunch of people to build the team.
The call that put everything on the line
One day, I received a call from our bank. They were furious.
Our credit security wasn't as intact as they thought. And we needed to fix it immediately.
My pulse rose. We were squeezed cash-flow-wise and had already maxed the €500,000 credit.
"How on earth are we going to fix this?", I thought to myself.
Sometimes, the truth is what you need.
Later that evening, I met two friends for dinner. We were talking about Upsales. And my friend—a work-damaged management consultant—asked about our profitability. While discussing, my other friend jumped in and said:
"Daniel's business model is, in essence, very profitable. But at the same time, he has a heart. So he has created a lot of unnecessary job opportunities and cut his profits. Which causes him liquidity problems".
My friend's chime-in made me realise something. We'd been scaling far more than we could afford over the years.
Turning on the survival instinct
We were facing three options:
1. To get on bad terms with the bank and go bankrupt.
2. To make a panic capital raise at a lousy valuation.
3. To do something about our cash flow problems, fast.
We decided to go with number three.
Over the coming weeks, we went into survival mode.
We needed to keep growing. So we asked ourselves what and whom we could remove without affecting our customers; as we didn't want to risk revenue losses.
Here's what the organisation looked like and what it became.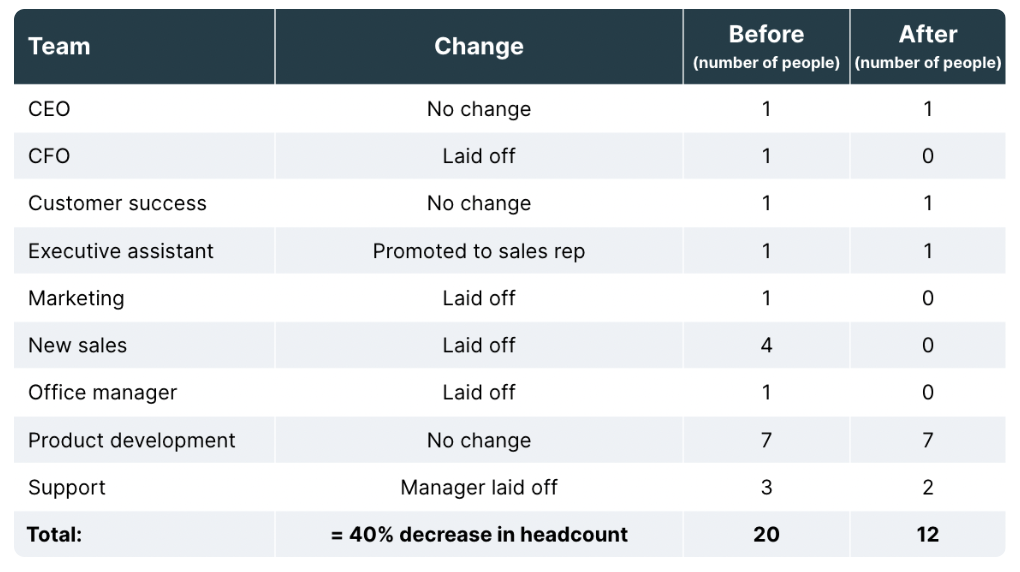 After careful consideration, we kept the product and client-facing teams intact. After all, what are we without a great product and customers? Instead, we outsourced finance. We laid off the new sales team. And we abstained from the nice-to-have roles: our marketing, office and support manager.
We also turned our executive assistant into our new, new sales department. Later on, she came to sell more than all of the previous sales reps did put together.
Smoothing things over with the bank
In a month, our margin went from 0% to 40%. We went from nothing to an annual run rate of one million euros in cash flow and profits. And that cooled off the situation with the bank. From that moment, I've stopped getting headaches over cash flow issues.
Five pieces of advice along the way
Letting good people go is one of the most challenging things you can do as a leader. But sometimes, it's a necessity.
Here are five pieces of advice based on our experience in 2012.
1. Get help from an employment law lawyer who ensures you do things by the book. A lot of companies miss this.
2. Find a clear explanation (three sentences max) on why you're doing this and what's coming next.
3. Offer affected employees to use the remaining time to apply for new jobs. And be their references.
4. Make sure to give the people laid off a proper show of appreciation.
5. Book a one-on-one meeting with everyone left in the organisation. Many get super nervous when things get turbulent. Let them know that they're essential for the journey ahead.
Something also worth remembering is that news like this travels at the speed of light. Make sure to inform all employees at the same time, not just the ones affected.
Remember to take care of all the people who are staying
My leadership coach then encouraged me to create a setting where people could talk about the situation and ask questions. So, after this, we invited the remaining people to dinner and an all-nighter. It was an excellent opportunity to see which team members needed to talk more or get further reassurance.
Running a company isn't easy. So, for you that will need to do something similar shortly. I know how it feels, and I wish you the best of luck.
/ Daniel Wikberg
CEO & Founder of Upsales