With the Upsales iOS app, you can access your information from Upsales anytime and anywhere, with real-time notifications to keep you up to date when a new lead or sale comes in. Create activities & appointments, call, send emails, close deals, get statistics of your customers' activities, and much more in the app. The app is now even more adapted to help all sales and marketing professionals on the run.
Below we highlight the key features that we think you will like.
Key CRM features in the mobile app:
Daily overview of sales, pipeline, opportunities, and activities
Sales notifications - get notifications from important events in real-time
Get an overview of ongoing opportunities in each phase in your sales process
Get an overview of sales in relation to budget
Be prepared for every appointment - Find sales history and earlier notes.
Manage your companies and contacts
See the KPI's such as turnover, industry, number of employees and more for all your customers
View planned and completed appointments
Call and send emails with the help of the app
See who is calling you without having the contacts in your phone book, by using our Call-kit.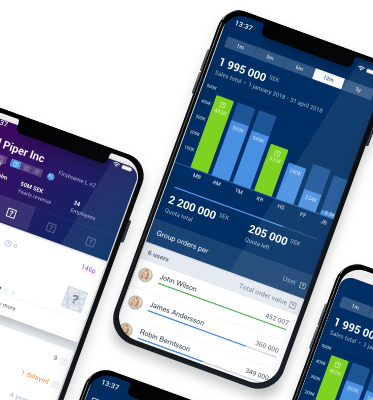 Use Marketing automation directly in our mobile app:
Get statistics from your email marketing
See who´s visited your website
See when and who´s converted on your website
Gives you an overview of all leads derived from all your marketing activities
Be able to assign leads to your team members
Completely new in the app is Upsales Event. You can now see detailed information about the events and be able to check-in people at the event directly in the app.
Of course, the app also received a facelift:
It is now easier to navigate in the app and to discover all the app's features.
The color scheme is updated to make it look fresh and sharp.
For the curious ones, we can give a small Upsales leak about what´s more to come. Our team is already working on the next update of the app. The upcoming features in the next release will include:
Upsales Insights - access your Insights reports directly in the app.
The possibility to create companies and contacts directly in the app.
Meeting and activity reminders.
Meeting outcome - after the appointment is passed, you'll see a prompt asking if the meeting happened or not.
The freshly redesigned mobile app is now available to download from AppStore.