Promoting events is a huge headache for businesses. You need to whip up a series of digital assets in a short period of time and get them in front of precisely the right audience.
The Upsales Event feature is created with the sole purpose to give you the practical tools to help and this post explains how to use them.
You'll learn how to:
Build a custom landing page
Create an automated email campaign
Simplify attendance tracking
Measure results
Let's go.
* All of the following times are based on a basic level of computer proficiency and a stable internet connection. We're also assuming you know what your event is about and what you want to say about it.
1. Input your campaign information
Time: 10 minutes
Open Upsales Events in the marketing tab at the top of your Upsales window. Once inside, click 'start a new event campaign'. From here, start adding all your campaign information – the date, event name, event description, location, number of seats, etc., like so: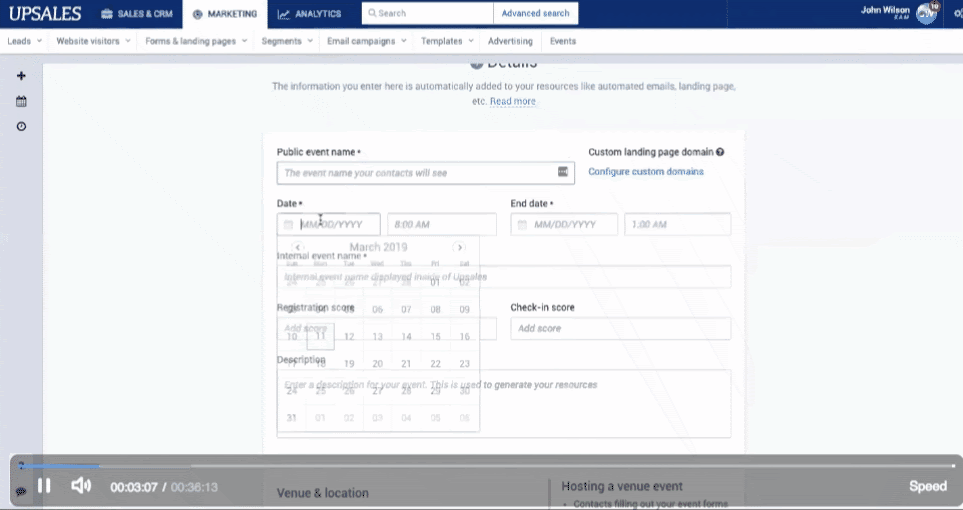 This information will be used to automatically populate content throughout your entire campaign so double-check for typos before proceeding.
2. Select your targets

Time: If your database is segmented, 30 seconds. If you're selecting contacts manually, a bit longer.
Choose the contacts you want to invite by selecting customer segments straight from your CRM. Equally, you can add specific contacts one by one.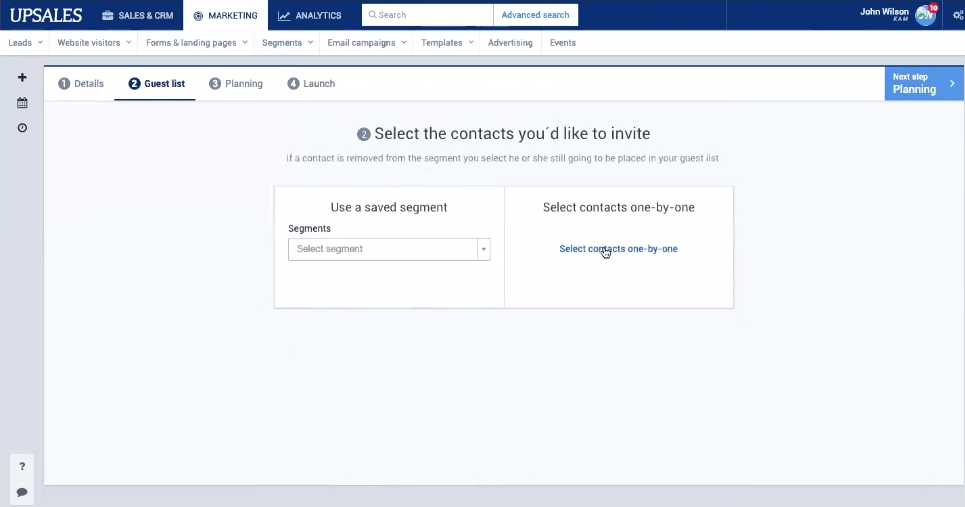 3. Personalize your template

Time: Between 5 minutes and 20 minutes depending on how much of a perfectionist you are.
Once you've selected a template (landing page or form), your campaign information is automatically added to your template. The flexibility of Upsales' Events templates lets you add and edit copy and headers, change colors, add images and videos, insert downloads, and more. If you want big images and minimal copy, for instance, it's easy to edit the template to match.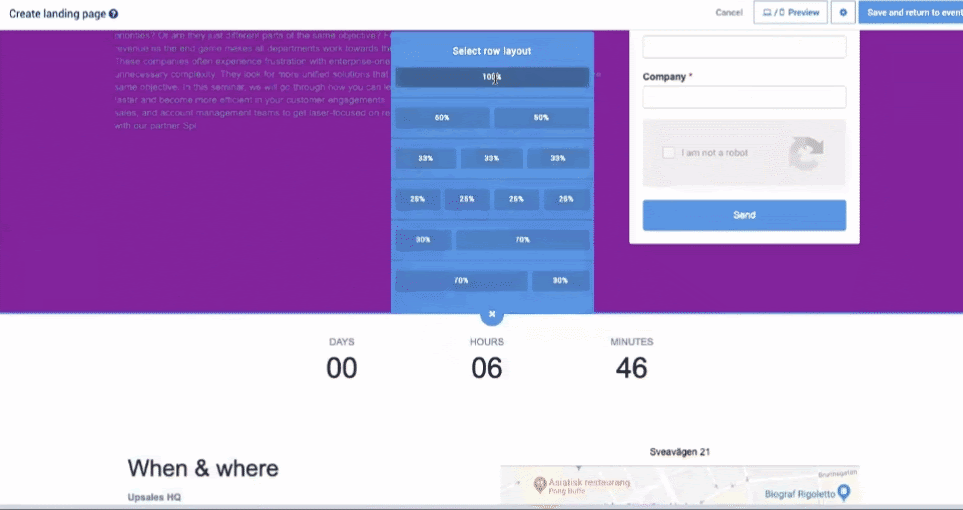 4. Create automated emails
Time: Anywhere between 5 minutes to 20 minutes (depending on customization).
Once you've got a landing page for your event, it's time to get your message out there. You can create and automate all manner of emails – invites, confirmations, reminders, thank yous, etc. – using pre-existing templates: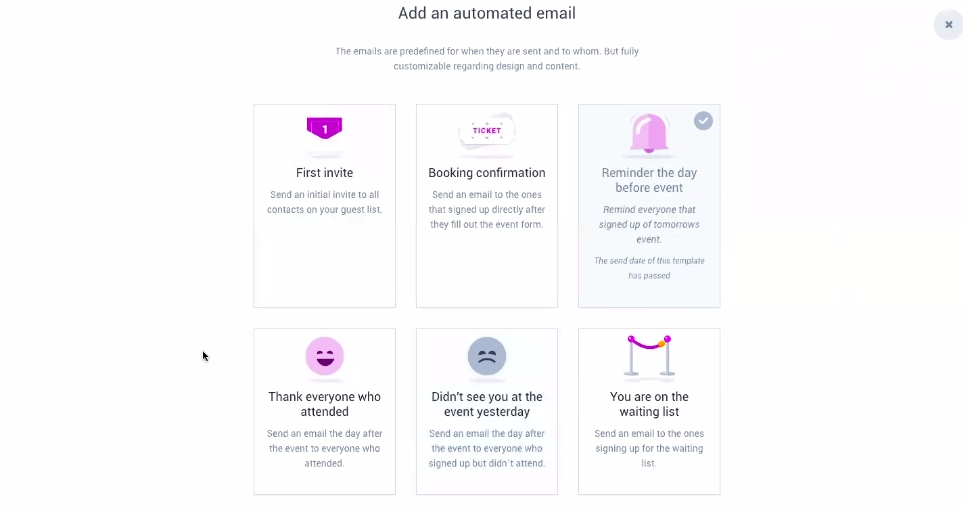 Just like your landing page, all of the information you uploaded in step one will auto-populate your emails. But if you want to make copy and design edits you can, and adding custom images and buttons is simple.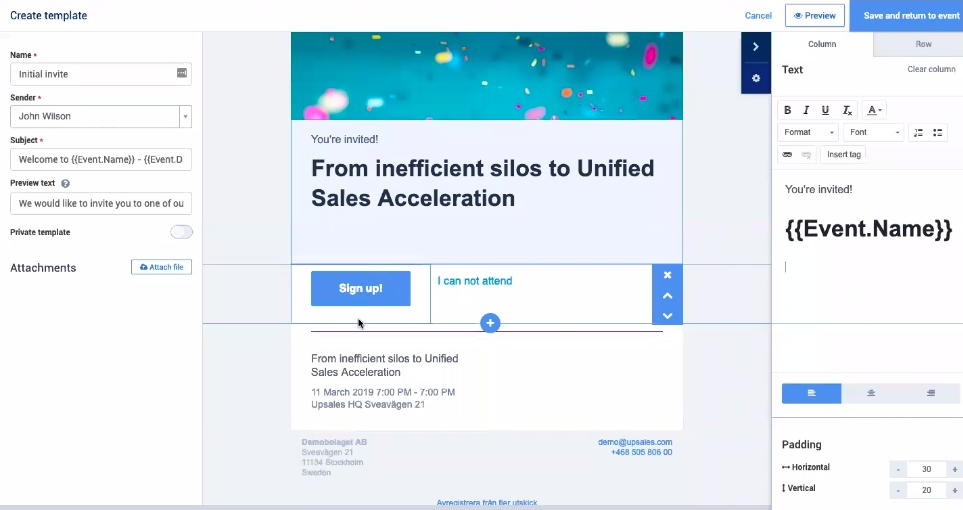 5. Automate unique event triggers

Time: 0 minutes and 0 seconds
This useful feature lets you decide when your emails go out. It also triggers actions depending on how people respond to your messages. For example, if a prospect attends your event and becomes checked-in, it will add them to the post-event thank you email list automatically. These actions are set up for every email you create.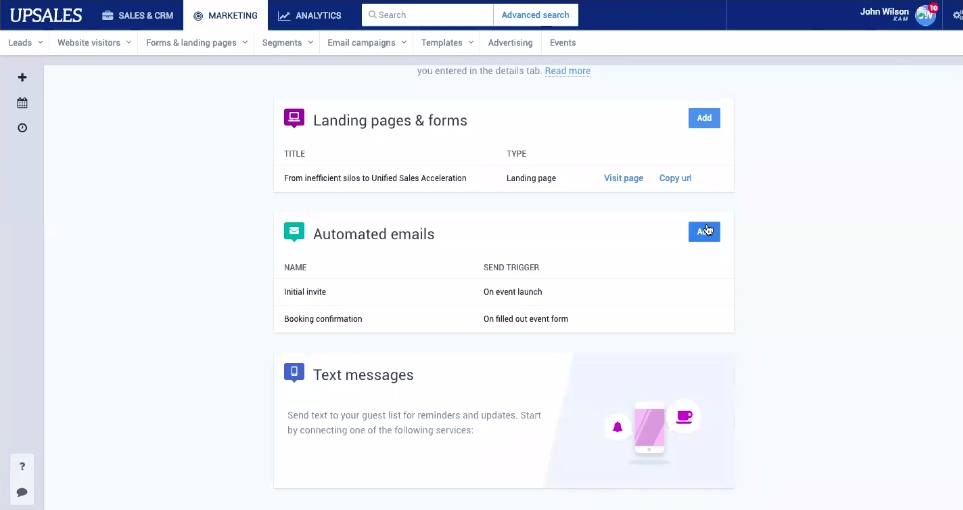 6. Get check-in ready

Time: 5 minutes while you double-check the guest list.
Tracking attendance at an event is often a manual chore. Upsales Events' check-in feature makes it simple. Once people sign up for your event, they're automatically added to our guest list tool.
You can even use the check-in feature if you don't use Upsales. Just create a unique link here to get started. Then simply send the link and access code to your event staff so they can check in your guests on the big day.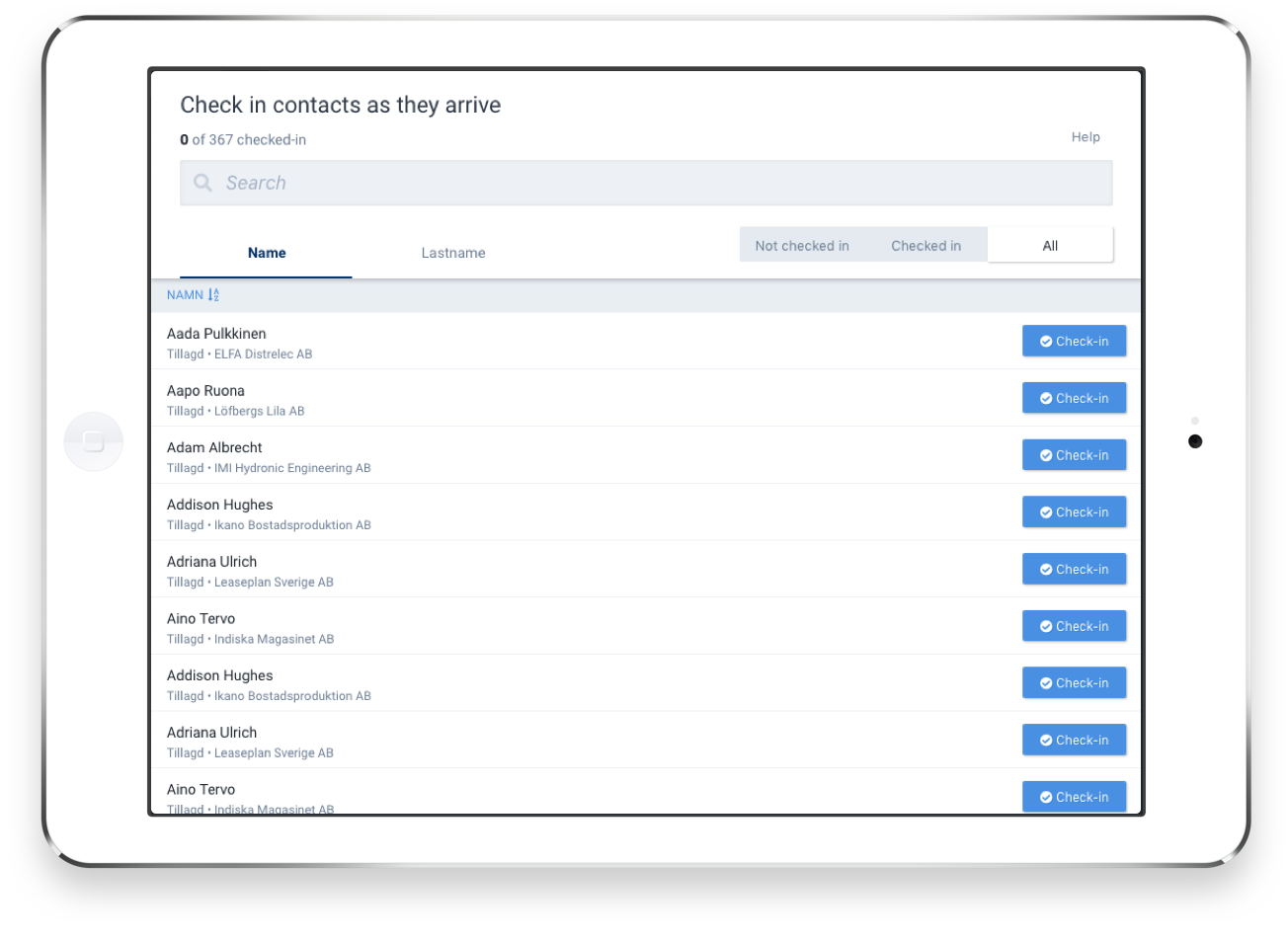 7. Launch your campaign

Time: One mouse click (around 0.001 seconds)
Once you're happy with the way your content reads and looks, simply hit publish and your campaign is launched.
8. Track everything

Time: 0 minutes and 0 seconds
Upsales Event tracks key event metrics – like attendance, sign-ups, click-throughs – and presents them all in one dashboard. This data gives you insight into the resources and channels that generated the most sign-ups and visits and will help you tie your event to sales. This is invaluable when it comes to proving return on investment.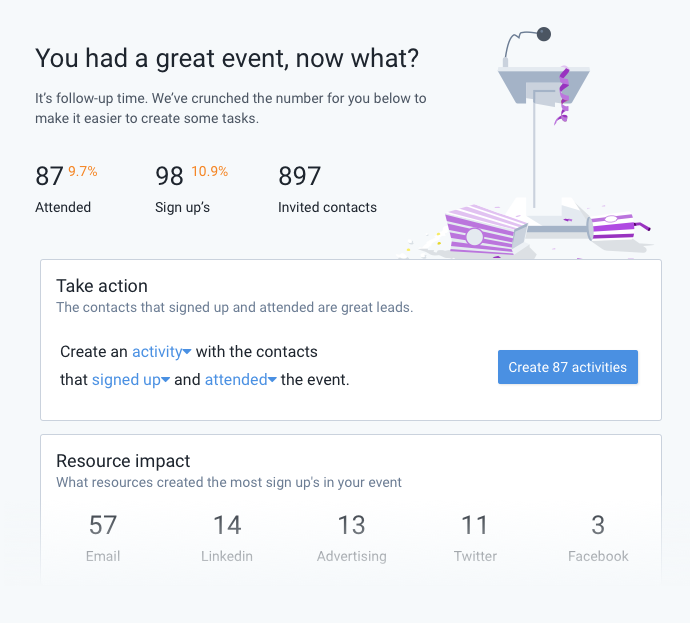 Stop the clock!
We're all done in 25 minutes and 50.001 seconds.
That's how you build an event promo campaign. In under 30 minutes, you can:
Import all of your content
Target your precise audience
Create custom landing pages and forms
Build and automate emails
Get check-in ready
Track and analyze everything
And this is just the tip of the iceberg. Upsales can help you tackle all manner of sales and marketing challenges – from solving attribution and streamlining reporting, to masking data and automating repeat billing.
Check out our eBook 'Ten ways to use Upsales' for the full lowdown.