Homemaker is a software and SaaS company that provides solutions to business-to-business clients in the interior design, real estate, and construction spaces. Since its founding in 2015, Homemaker has cultivated a large base of corporate clients and continues to develop innovative and industry-leading software applications. It has over eight thousand users, a presence in all the Nordic countries, and has experienced 100% year-on-year growth for the last several years.
Its mission is to make real estate tools that enable all sorts of people, from individual homeowners right through to high-level project managers, to create beautiful and stylish interior spaces. It's driven by five main principles: customer focus, quality, creativity, communication, and responsibility.
With all that in mind, let's take a closer look at how Homemaker uses Upsales to power a myriad of different aspects of its business.
What does Homemaker do and what challenges does it face?
Homemaker offers two web-based software products - Homemaker Showroom and Homemaker Service. Homemaker's key selling point is that it's a web-based system that integrates easily with third-party solutions.
Homemaker Showroom is a three-dimensional visualization tool for interior designers that need to run simulations. It has both corporate and customer-facing implementations.
Homemaker Service is a comprehensive customer relationship management app for project managers in the real estate sector, with features for task allocation, subcontractor management, analytics tracking, and more.
As with any fast-growing company, Homemaker faces several challenges. Here is an overview of the main points:
Rapid expansion - Homemaker is currently expanding into UK and German markets and is also hiring more people. This can create an administrative burden, especially in regards to managing sales data and reporting.
Sustaining growth - Homemaker has sustained a year-on-year growth rate of 100% for the last several years. With no plans to slow down in the near future, Homemaker's infrastructure must be able to scale efficiently.
Catering to different market segments - Different market segments have unique requirements and necessitate tailored marketing and sales strategies. Managing a multi-faceted approach to marketing while maintaining cohesiveness and adhering to company-wide performance benchmarks can be difficult.
While these challenges are in part the result of rapid growth, many are also merely ongoing problems that come with the territory of running a global software company. As a result, Homemaker has created a tech infrastructure, in which Upsales plays a key part, to keep track of sales and KPI:s as effectively as possible.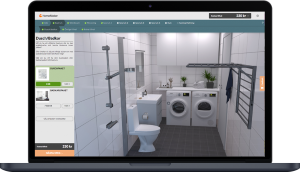 How Upsales helps Homemaker manage its sales, marketing, and analytics operations
Here are the main ways that our platform helps to drive sales and marketing success:
Invoicing - Homemaker uses Upsales' invoicing tools to bill clients in a fraction of the time it takes with traditional invoices.
Data interpretation and tracking - Homemaker leverages Upsales analytics tools and reporting functionality to track a variety of sales and marketing metrics, including ARR, MRR, and customer growth.
Customer management - Having customer data easily available from the marketing management dashboard makes it easy for Homemaker to communicate with both new and long-term customers, thereby building loyalty and ensuring satisfaction. Automated tracking and management features also enable Homemaker to serve clients with tailored, personalized content irrespective of which stage of the customer journey they are on.
Marketing - Upsales provides Homemaker with a unified, central dashboard through which it can manage all of its marketing activities. These activities encompass email marketing, account-based marketing (ABM), retargeting, and more.
A large part of Upsales' value to Homemaker derives from the availability of customer management and marketing automation functionalities in a single platform. This dual feature-set allows the team to generate a birds-eye overview of all sales, marketing, and customer management activities right across the company. What's more, Upsales' extensive integrations library makes it easy for Homemaker to maintain a fully-synced and automated tech stack.
Are you thinking about using Upsales to power your business?
Are looking for a comprehensive customer management and sales automation platform to power your business? If the answer is "yes", then Upsales could be the solution for you. Like Homemaker, thousands of companies have successfully leveraged Upsales to drive greater efficiency and performance. Sign up for your 14-day free trial or, alternatively, get in touch directly to talk about your needs.